First, AI copywriting saves you time. These tools can analyze data much quicker than humans can, so they can instantly generate full articles. They work 24/7, too, so you can literally craft content in your sleep!
10 Best Copywriting Tools You'll Love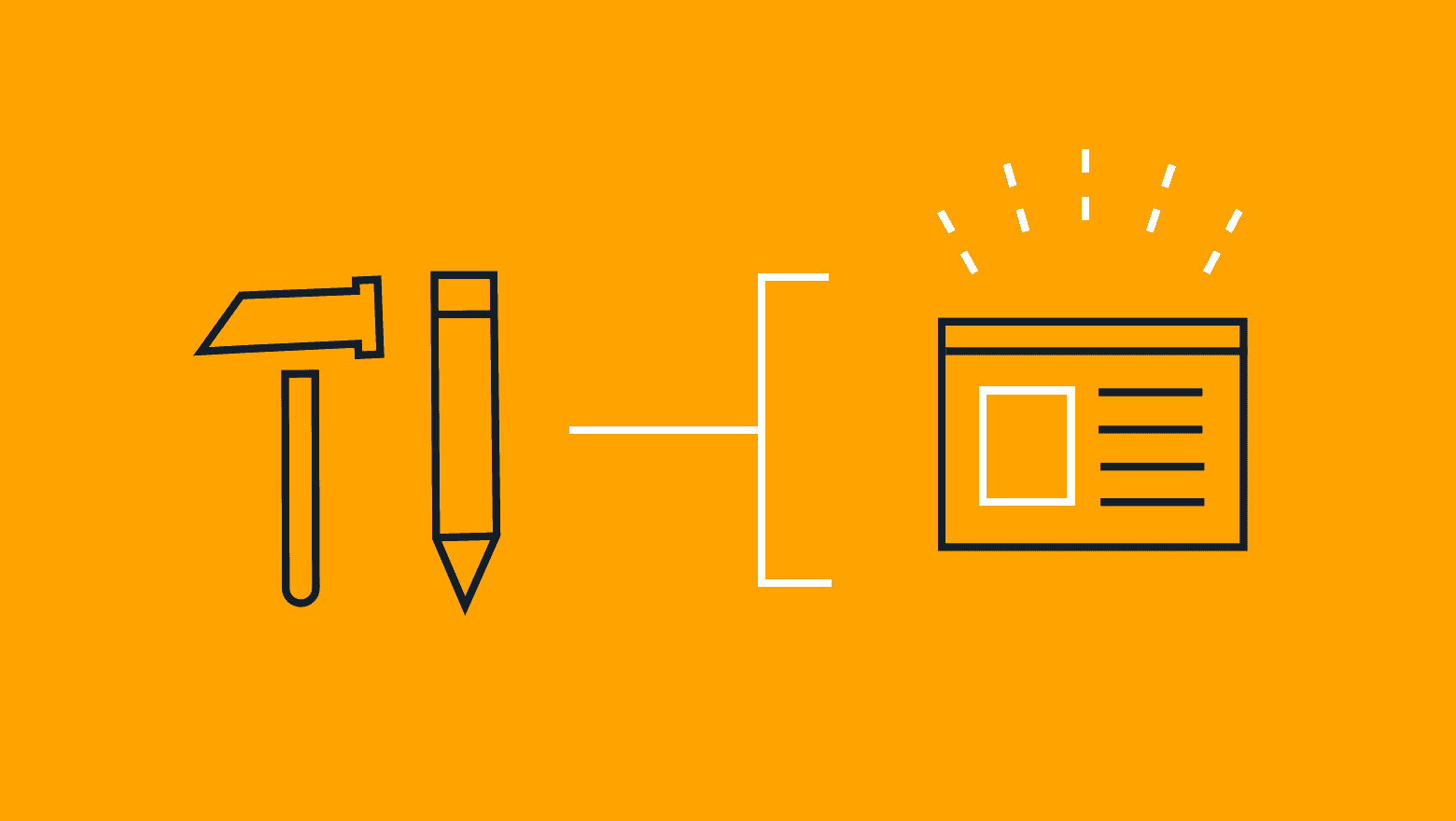 Writing copy is one of the routine tasks that digital marketers do on a regular basis. From creating text and display ad copy to writing blog posts as part of a content marketing campaign, marketers use persuasive writing in a variety of formats to drive conversions and ensure the success of their campaigns. Copywriting is also used in email marketing and when crafting compelling posts for social media.
Unless you're a professional copywriter, writing copy may also be one of your biggest challenges in marketing. Thankfully, there are a variety of copywriting tools available that can help you find inspiration for your ad copy, support your creative writing process, and validate the advertising copy you create.
10 Best Copywriting Tools You'll Love
Facebook Ads Library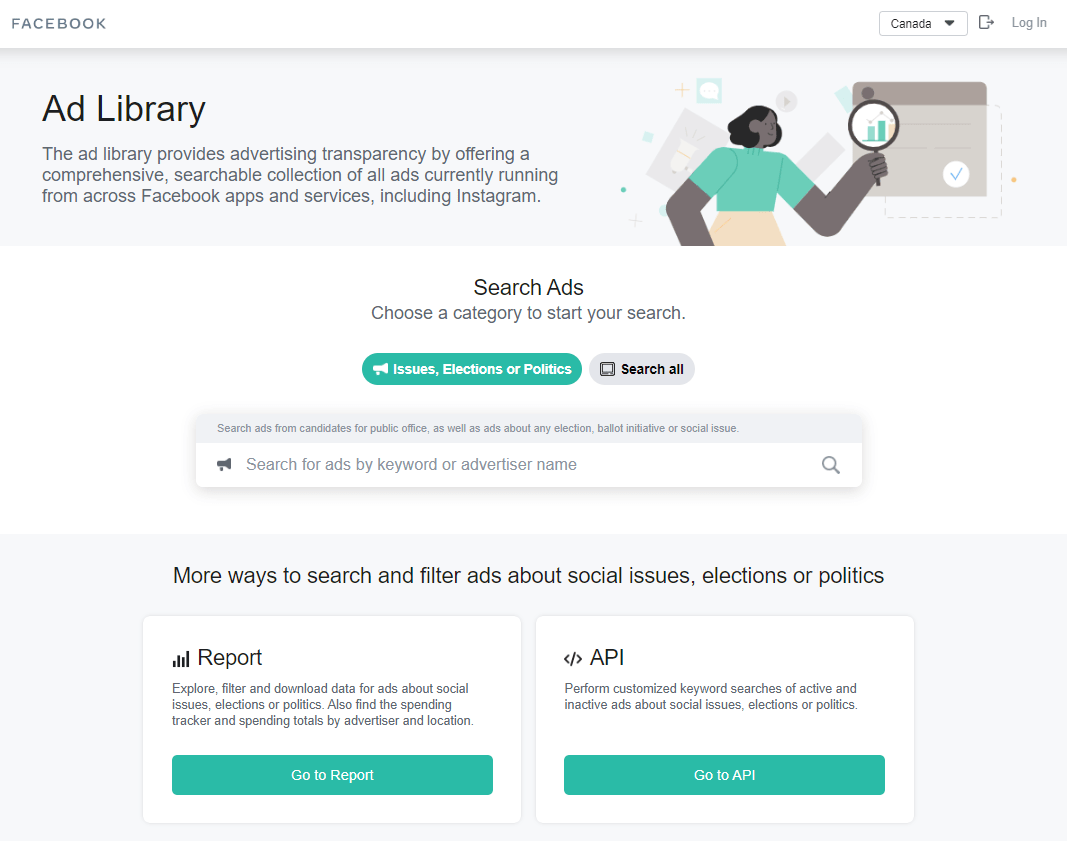 Key Features: Gathering inspiration and competitive insights is an important part of the copywriting process. Marketers can search the Facebook Ads Library for advertisements by keyword or the name of the advertiser. This makes it easy to find historical advertising data on your competitors where you can study their messaging and see how they use copywriting to market a product similar to yours.
SpyFu Competitor Analysis

Key Features: Type any domain into the SpyFu search bar and you'll be able to discover the top-performing content on their website and a full history of advertisements they've run on the Google search network. SpyFu makes it easy to study how other brands in your niche are using copywriting to create effective advertisements and web content.
Sharethrough Headline Analyzer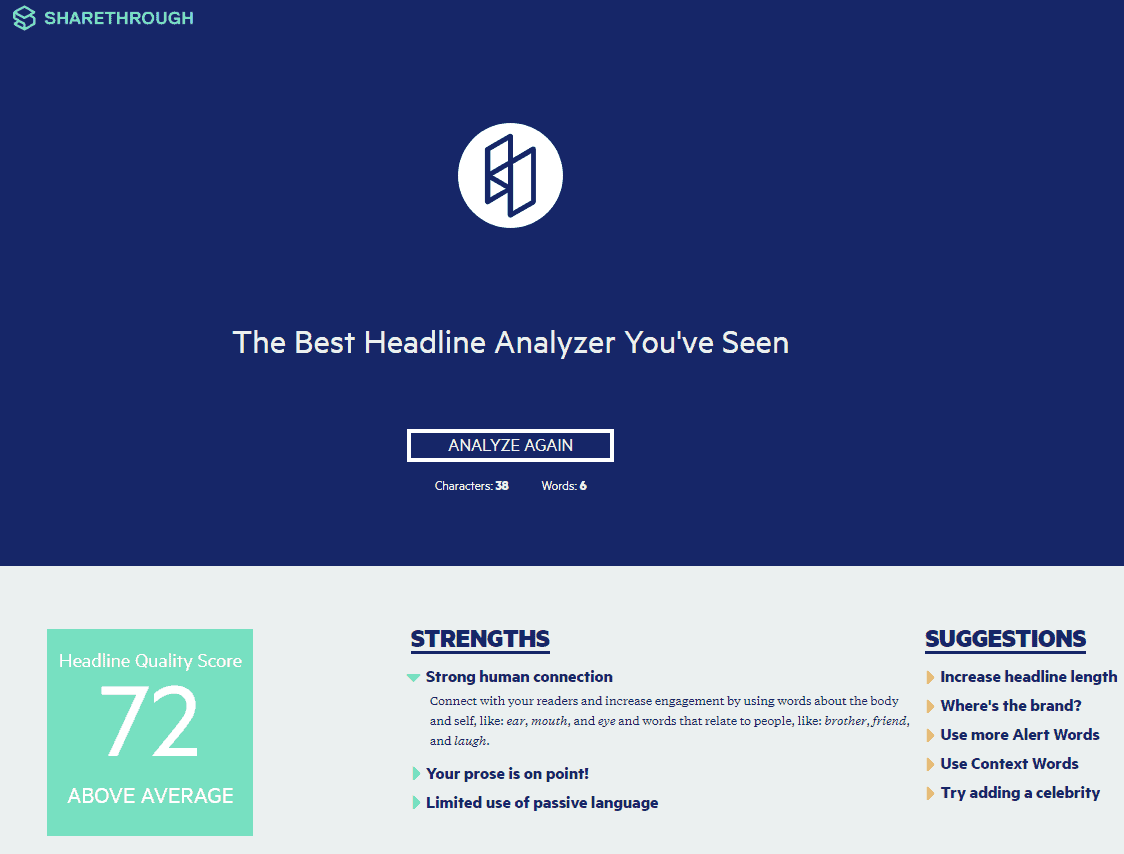 Overview: Headlines are present everywhere in the world of digital marketing. There are headlines at the top of blog posts, headlines that link to blog posts, headlines at top of search and display advertisements, and even subject lines for emails. Regardless of use case, Sharethrough offers a free service that analyzes the strength of your headline and offers tips and advice for making improvements.
Key Features: Sharethrough offers one of the best free headline analyzer tools we've seen online. It's quick and easy to use and offers clear directives for improvement. You'll also be assigned a headline quality score by an algorithm that accounts for over 300 unique variables to determine how well your headline grabs attention and engages audiences.
SEMrush Display Advertising Analytics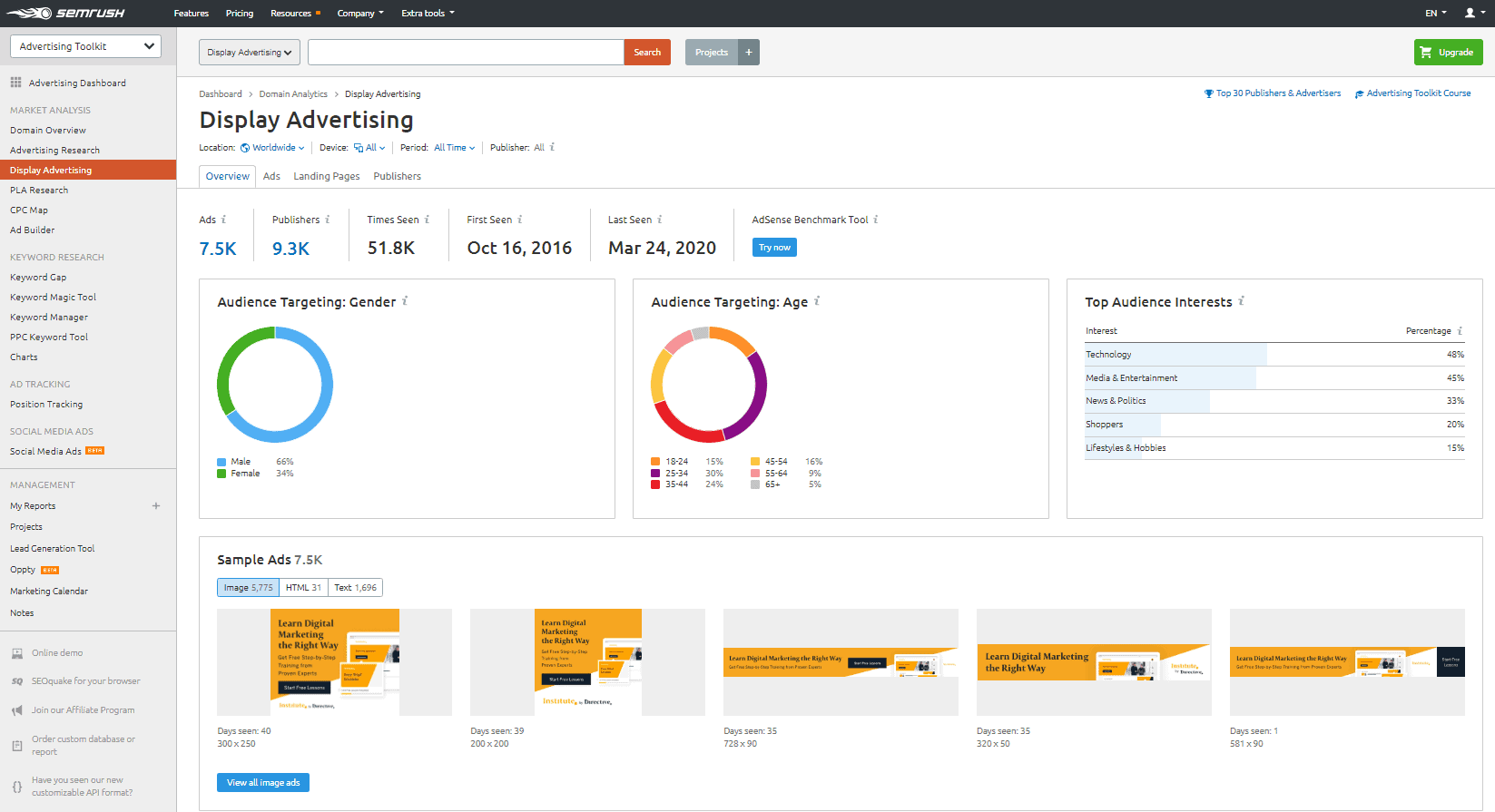 Overview: SEMrush is an industry leader in search engine marketing software tools. As part of their Advertising Toolkit, marketers can access in-depth display advertising analytics for any brand or competitor of their choice.
Grammarly Premium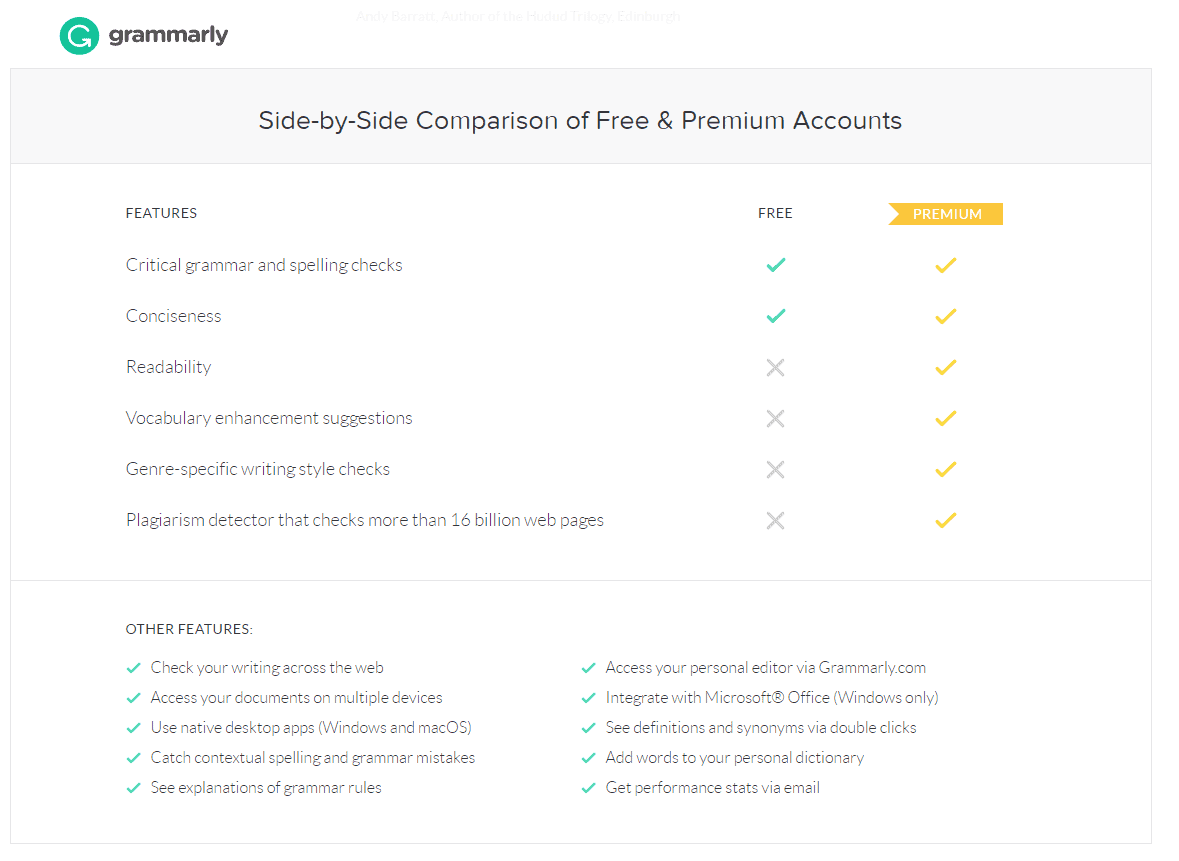 Key Features: Grammarly Premium evaluates your content automatically for spelling and grammar, readability, conciseness, vocabulary, and even checks for plagiarism to help you avoid duplicate content issues. If you do your copywriting in the app itself, you can actually improve your writing skills as you receive real-time feedback on the quality of your work. Grammarly Premium has been criticized in the past for missing obvious mistakes, so make sure you still proofread your work in case something is missed.
Hemingway Editor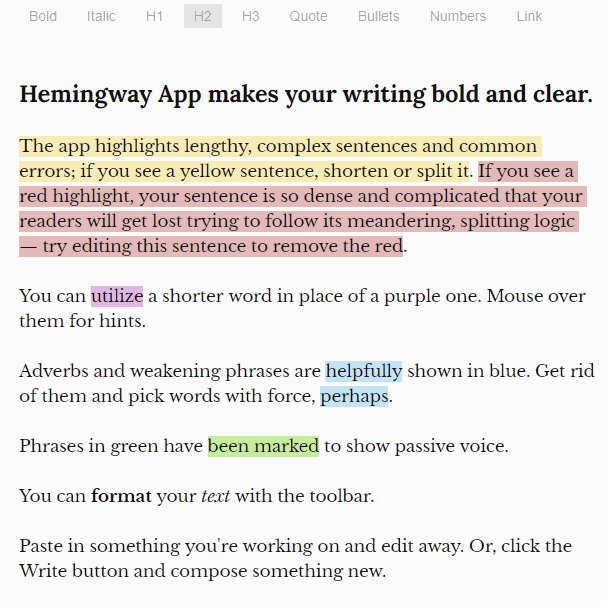 Key Features: When you create copy in the Hemingway Editor, you'll benefit from instant feedback on the quality, accessibility, conciseness, and readability of your work. The app automatically highlights errors using a color scheme that you'll quickly learn, identifying opportunities for you to correct mistakes or improve your copy with a simpler and more concise sentence.
Answer The Public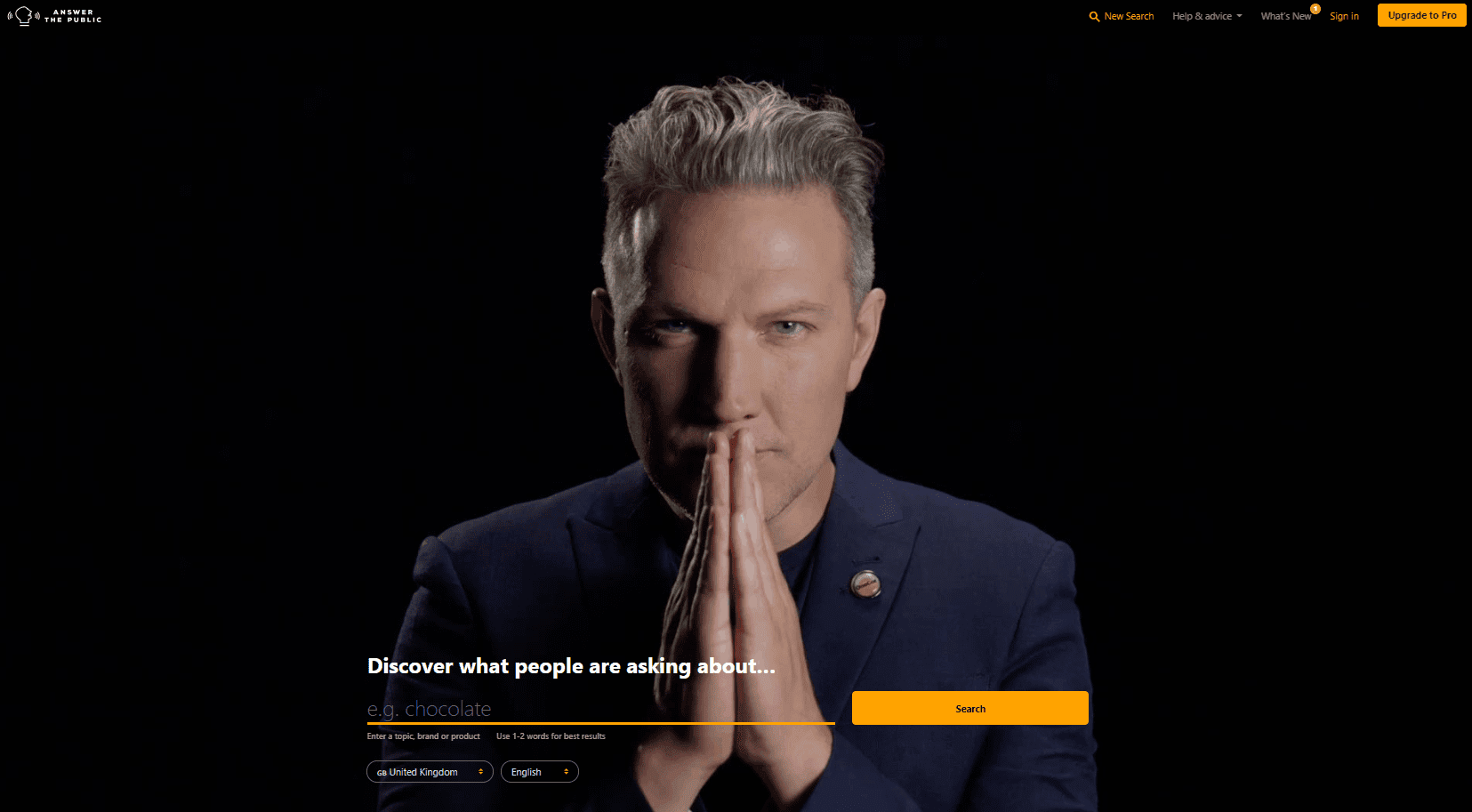 Key Features: Answer the Public is a web-based research tool that helps marketers discover the most frequently asked questions surrounding a specific keyword, product, or service. Simply enter a keyword of your choice into the search box and you'll be treated to rich visual representations of the questions that searchers are typing in Google with your keyword. This makes it easy to design blog posts that address your customer's real questions or create ad copy that addresses known pain points among your prospective customers.
Rhymezone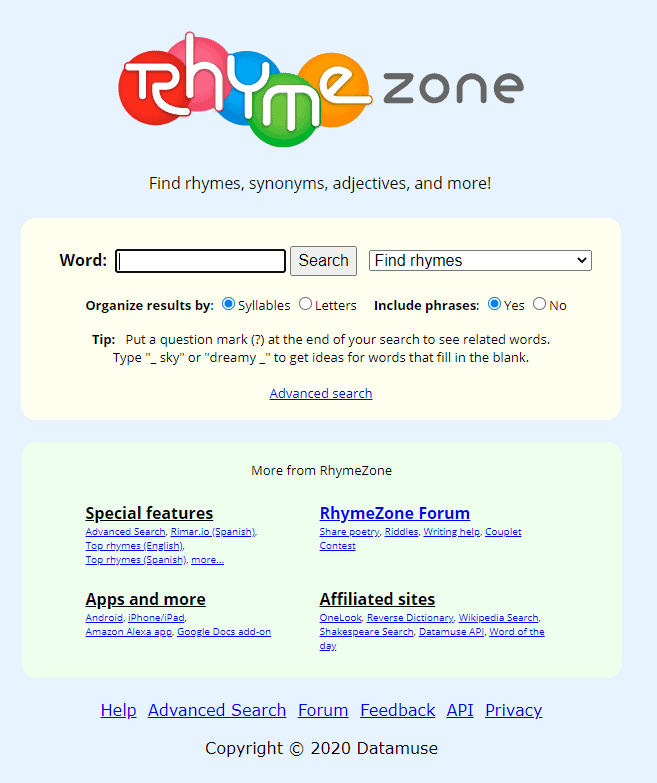 Key Features: Marketers can type any word into the search bar and access a comprehensive list of rhyming words organized by the number of syllables. This can help marketers discover rhymes or identify attention-grabbing words to incorporate into their advertising copy.
When you're looking for a better word
4. Cliché Finder
Cliché Finder will highlight overused and stale expressions in your writing, so you can remove and rephrase them. All you have to do is copy and paste your text and click the button below. The only thing you have to keep in mind is their 10,000 character limit.
5. Unsuck It
It might make total sense to you because you're used to it. Yet a newcomer or someone completely outside of your industry will probably have no clue what it means. That's business or industry jargon for you.
This super fun tool helps you decode industry language, so you can understand what they say. Or write it in a way so that others can understand. Whichever end of the "I don't understand the jargon" you're on, Unsuck It will be invaluable.
6. Words To Use
The words are divided into parts of speech so that you can come up with fresh product titles and descriptions for a variety of occasions. First, choose a topic you're writing about (e.g. holidays) and then the type of word you need. Each topic offers words for verbs, nouns, adjectives, phrases, and more.
Amy Morse created this tool due to popular demand from copywriter friends and has since become a useful tool for everyone and anyone who writes. Like most of the tools on our list, Words To Use is completely free to use, so if you're stuck looking for the perfect word, definitely give it a go!
7. Copywriting Examples
Copywriting Examples is like your master swipe file —a huge collection of copywriting samples to use when working. But it doesn't stop there. Hover over each handpicked sample to see an explanation of why it works so well. This way you're not only getting inspiration but can learn at the same time.
5 AI Copywriting Tools for Content Creation
1. CopyAI
How does it work? It's a simple enough concept. CopyAI uses a highly advanced machine language model, GPT-3, to produce authentic, human-like copy almost instantly. You just select a copy type, provide some words, phrases, and descriptions to base content around, and watch CopyAI do the rest.
Key Features
One thing that's great about CopyAI is how simple it is to get going. You only need to provide a few words to generate copy including Instagram captions, product descriptions, and even product value propositions in seconds.
Pricing
You can choose from two packages. The "Solo" package costs $420 a year (billed monthly at $35) or $49 for rolling monthly subscriptions, and it gives you access to all CopyAI tools, unlimited runs, and around-the-clock support.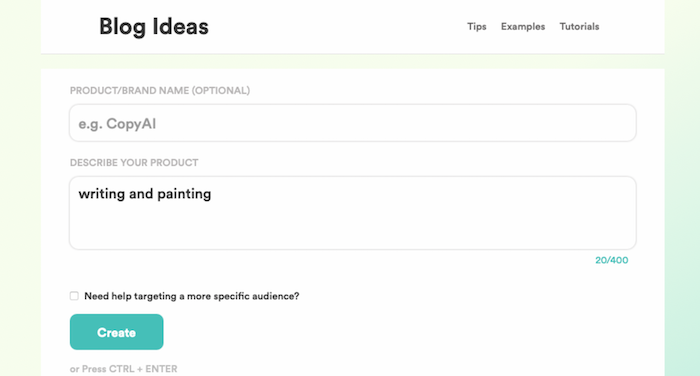 2. Wordtune
Do you have trouble saying exactly what you mean? Wordtune can help you get the words right. This AI copywriting companion works alongside you in real-time, helping you rephrase and reword your content without sacrificing flow, tone, or meaning.
Since it's not a fully-fledged article generator like CopyAI, it's best for marketers who want to write copy and need help shaping it. It could save you time spent agonizing over word choice and sentence structure while giving you the creative freedom to write your content.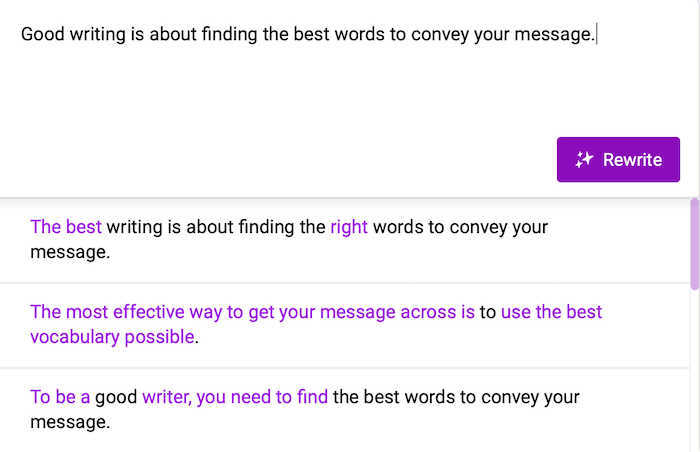 Key Features
Designed with the discerning content writer in mind, Wordtune can assist with everything from sentence length to full-length article rewrites. This could be great for marketers looking to repurpose content across different platforms who want help condensing and rewording their copy.
Once you add the Chrome extension, you can instantly use it across popular websites such as Twitter, Grammarly, and LinkedIn, making it one of the most efficient AI copywriting and grammar-assistance tools out there.
Pricing
However, if you want access to features like sentence length controllers, tone controllers, and word searches, sign up for Premium. You can either pay $24.99 a month or save money and pay $119 for the year. You'll get access to all features other than team billing.
3. Copysmith
Key Features
For example, if you run an online store, Copysmith can generate a whole FAQ section for you plus unlimited product descriptions. Need taglines to boost your brand profile? Copysmith can turn your brand vision into engaging, memorable ad copy, and you can store all your client copy in one place.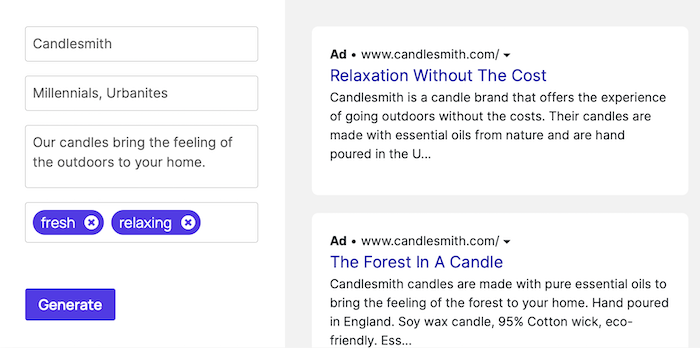 Pricing
First, we've got the Starter package. For an annual subscription, it's $192 which works out at $16 per month. However, you can instead opt for a monthly subscription, which is $19 per month. For your money, you'll get 20 plagiarism checks per month, Google Ad integrations and Chrome extensions so you can access copywriting support within your browser.
Next, there's the Professional tier, which costs $600 per year (working out at $50 per month) or $59 for a monthly subscription. You'll get everything in the Starter package, plus extra plagiarism checks and 100 generated blog posts to get your creative juices flowing.
Finally, there's the Enterprise package, which comes in at $5,088 annually or $499 if you pay monthly instead. It comes with unlimited plagiarism checks and blog ideas, plus a suite of integrations including Shopify, so you'll never be stuck for a product description again!
4. Wordsmith
Do you rely heavily on data for your day-to-day decision-making? If so, check out Wordsmith. This platform generates natural-sounding content based on analyzing large data sets, so you can use it for everything from journalism to financial reporting.
Key Features
Like Copysmith, Wordsmith is all about scale. All you need to do is create one template, set up a few variables, and Wordsmith will generate multiple alternative scripts. For example, you can write chatbot scripts for responding to various complex customer requests or write a video game script.
Pricing
5. Writesonic
"Trained" on successful copy from popular brands, Writesonic can help you generate everything from landing pages to Facebook ads, and it's designed to maximize your chances of ranking well on search engines. Simply select a template and supply a few lines of description, and Writesonic will provide multiple copy samples for you to choose from.
Conclusion
Whether you're a digital marketer or a busy copywriter, AI copywriting tools can help you scale your content creation and achieve your business goals. They're easy to learn and fun to use, and best of all, they produce natural, engaging copy to support your content needs.
Since every AI copywriting tool is slightly different, it's best to check out a free trial or two before you commit to a purchase. This way, you'll get a sense of how the tools work and which one best supports your business strategy.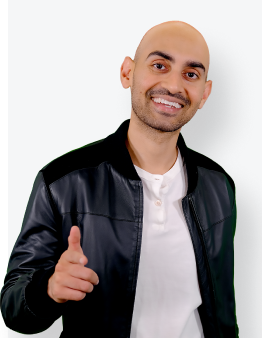 Share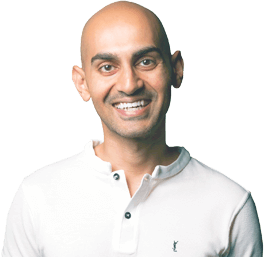 He is the co-founder of NP Digital. The Wall Street Journal calls him a top influencer on the web, Forbes says he is one of the top 10 marketers, and Entrepreneur Magazine says he created one of the 100 most brilliant companies. Neil is a New York Times bestselling author and was recognized as a top 100 entrepreneur under the age of 30 by President Obama and a top 100 entrepreneur under the age of 35 by the United Nations.
Sources:
https://directiveconsulting.com/blog/copywriting-tools/
https://uxstudioteam.com/ux-blog/copywriting-tools/
https://neilpatel.com/blog/ai-copywriting/
Copywriting tools
They all plan to release new features, which will help you even more in copywriting and content writing. Not to mention an upgrade from GPT-3 to GPT-4 or any other natural language processing/machine learning/deep learning models will create more authentic and human-like texts that no one could imagine.
The 11 Best Copywriting Software Tools in 2021
Content Editing – You want to make your readers believe that you are a professional writer. An editing tool can help you craft a copy with concise sentences, power words and remove convoluted prose.
Grammar & Spelling Checker – A quick grammar check before you send out your copy will be the difference between a well-received piece of content and a questionable one with amateur mistakes. It should also eliminate typos and spelling errors.
Headline Generator – The best headline generator tool will help you develop SEO-friendly and eye-catching headlines that drive traffic, shares, and search results.
Online Plagiarism Checker – It will scan your content for unoriginal and plagiarized material.
A/B Testing – Add value to your copy by creating numerous versions of the same content, compare their performance and then pick the best version.
Competitive Analysis Tool – It will help you discover the top-performing content on your competitor's website so that you can emulate the practices they're using.
Project Organization & Management – You need a platform that lets you plan, organize, and track all your content in one place. Such tools should also allow seamless team collaboration, integrations, and a feedback delivery system.
Editor's note: I'm going to use some affiliate links when possible to try to earn some revenue from my content. These don't change the opinions espoused in the content nor the style in which they are written. If I think a product sucks, I'm not going to say otherwise. This is just a bonus and a way to fund the whole operation. Anyway, enjoy the article!
Things You Should Know
First of all, AI copywriting software is excellent but not perfect. You must apply human creativity to make the content fit your brand voice and audience. Possibly, some sentences can be weird, not human-like, or even offensive. You should edit or remove them from your copy if you find any.
Some might worry about plagiarism. Based on my experience, I always use Grammarly to check my articles before posting. However, I found almost none of these issues (usually less than 2% for an entire article.)
Regarding SEO and search engines, NEVER use AI-generated content without applying the human touch. I have seen many sites with such content lose almost all of their traffic and rankings over an algorithm update.
Criteria
How to Use AI Copywriting Software to Your Advantage as a Copywriter
1. Use AI for the Right Writing Tasks
Not every piece of writing needs to be amazing. Often, writers capable of writing truly epic content have to spend a large portion of their time writing things that do not require a huge amount of skill or expertise.
2. Optimize Your Copy with AI
You can use AI to write your meta titles and meta descriptions or find ways to include your keywords in the body of your text. Some even do keyword generation for you. Wherever you can use a tool to speed up something you have been doing manually, it will be beneficial to you.
3. Use AI to Help You Rewrite Copy
‍There are many, many instances where a copywriter needs to say the same thing, differently. Once or twice is easy, but it gets challenging when you have a find a unique way to write about the same item/brand/event for numerous different contexts.
4. Let AI Help You Get Unstuck When You Have Writer's Block
AI can help you get unstuck! Letting AI write your next paragraph can help you get the ball rolling again. Even if it just shows you what you didn't want to say, you will suddenly have clarity on what you do want to say.
5. Learn How to Get the Most Out of the Tool You Use
AI copywriting tools generate the best content when they're fed the right inputs from you. Spend some time figuring out what the tool you're using needs to create copy that is suitable for your needs. It is well worth the investment and will cut down on your editing time later.
Look at the rest of the features and tools they provide too and see which ones can be useful for you. As long as it doesn't compromise the quality of your work, anything that saves you time, saves you money!
6. Use AI to Generate Blog Outlines and Templates
For example, it took just a few minutes to generate the title, outline, and a few paragraphs under each heading of a blog post using Hypotenuse AI. From there, we could copy the content into a document and get started, with the outline and opening paragraphs already in place!
7. Become an Expert Editor
No matter how good your AI copywriting tool is, the content will always need to be carefully edited. Editing someone else's writing is a great learning experience that every writer, no matter how experienced they are, can learn from.
Similarly, most AI tools have built-in tools to check spelling and grammar, and some have built-in tools to check for plagiarism. You can use these to check your work, in the same way that many writers use programs like Grammarly.
8. Learn to Improve AI Content Instead of Writing it from Scratch
The best AI copywriting tools are capable of producing content that doesn't need a lot of editing. Often, turning average content into great content is still easier, and quicker, than writing it from scratch.
Frequently Asked Questions
What are AI copywriting tools?
AI copywriting tools are software applications that use machine learning and natural language processing models to understand the context and the format required when a user keys in words and sets some simple parameters. AI-generated content is mainly used for social media posts and ad copy, blog posts, SEO meta descriptions, and product descriptions. Read the full review to learn more about what AI copywriting tools can do.
What is the best AI copywriting tool?
There are dozens of great AI copywriting tools on the market. We selected 11 of the best tools and tested them to find out which are the top five AI copywriting tools. Of the 11 tools we tested, the best ones were Japer (formerly Jarvis), Writesonic, CopyAI, Hypotenuse AI and Rytr. Check out the full article for more on the best AI copywriting tools.
Can AI copywriters replace human copywriters?
No. Not yet, anyway. None of the AI copywriting tools that we tested were capable of producing content on par with a skilled human copywriter, without a human editing and improving the copy. However, they do provide many useful features that we think will change the way human copywriters write. Read the full article to see how AI can help you write great copy, more efficiently.
Sources:
https://www.alexbirkett.com/copywriting-software/
https://victorytale.com/best-ai-copywriting-tools/
https://peertopeermarketing.co/ai-copywriting-tools/
Copywriting tools
Free Plan: It comes with 20 free credits, which you can use however you want throughout the site. It allows you to use every content template, email and char support channel and access the newest available features.
7 Best AI Copywriting Tools & Software [An In-depth Review]
But all tools are not equal. Some satisfy the user's needs more than others. Therefore, if you want to select among the best AI copywriting tools and software, you need to understand the underlying criteria that qualify a tool as one of the best.
| | | | | | |
| --- | --- | --- | --- | --- | --- |
| Tool | In-app collaboration | Copywriting Templates | Plagiarism checker | Content export feature | Pricing |
| Anyword | Not supported. | It supports several templates. | Not supported. | Not supported. | Starts at $19 per month. |
| Copysmith | Has workflow management and supports in-app collaboration. | It has over 30 copywriting templates. | Has a built-in plagiarism checker. | Supports exporting your content in different formats, including PDF, CSV, Docx, and TXT. | Starts at $19 per month. |
| Rytr | Not supported. | It supports several copywriting templates. | Not supported. | Not supported. | Starts at $9 per month. |
| Copy AI | Not supported. | It has over 60 templates. | Not supported. | Not supported. | Starts at $49 per month. |
| Writesonic | Not supported. | It has about 40 templates. | Not supported. | Not supported. | Starts at $15 per month. |
| Jarvis | Not supported. | It has over 50 copywriting templates. | Has a Copyscape add-on for Boss Mode users only. | Not supported. | Starts at $29 per month. |
| Peppertype | Supports in-app collaboration. | It has over 30 copywriting templates. | Available for enterprise users only. | Not supported. | Starts at $35 per month. |
Why Use AI Copywriting Tools?
AI Copywriting Tools are great for writers struggling with writer's block. It is common in the writing world for people to get stumped with what to write when looking at a blank screen, so using an AI copy tool helps move them past that block and at least gives them some idea of where to start when writing.
Another benefit of using AI Copywriting Tools is that they save a lot of time! For example, If you have loads of copy to do in a short timeframe, an AI copy tool can quickly and efficiently create several pieces of content in just a few seconds, freeing up time for you to either write more content or have a well-deserved brew!
They save you money. If you are a business owner looking for a bunch of content to be written, hiring a writer to do this can be costly, so by using an AI Copywriting Tool, you can get the job done in a much cheaper and cost-effective way.
AI Copywriting Tools don't just do copy for you. Many of these tools come with an array of different helpful tools that won't just improve your content but will also help your website with SEO tools, keyword checkers, and much more; you and your website will be ranking high in no time!
The demand for bigger, better and faster technology and for results to be perfect is becoming more of a required feature in today's world. People are always looking for ways to achieve the highest efficiency and so creating these AI Copywriting Tools gives people that choice.
But with that said, no machine, no matter how artificially intelligent it is, would replace the candid, authenticity of actual human writing and overseeing your content. The main issue with these AI copy tools is that even if they produce good content, they are not always reliable, so you need a human copywriter to proofread and check the AI content to make sure it is up to business standards.
Also, actual human writers have unique writing styles, with different tones of voice and language that you would find hard to replicate with an AI-powered content creator. So as we stand now, AI-based copy tools cannot completely replace human writers.
My tip for anyone offering SEO consultancy out there looking to save a bit of money on their copywriting is not replace your copywriters with AI. You simply cannot beat the output of a human, especially an expert copywriter in their given field.
You get stuck with writers block (by prompting a following sentence)
Use them to write structured data. I've found these tools to be very accurate with things like lists and numbered items in a guide. For example if you were to write 'here are the 3 core aspects of SEO', it's very likely to get things right in terms of what the headings need to be – you will need to tweak and expand from the AI output, but it'll at least get you a nice structured list in the format you've outlined
Responding to frequently asked question content, or even when scraping the 'also asked' aspect of search results. Now that you know many AI-driven websites exist, you'll start to see the ones which scrape and output the 'people also asked' section of the SERP's as a means of expanding content on a page. I feel like Google will certainly catch-up with these practices, but if that's what you're looking to do then AI can help to speed up that process by giving straightforward answers to simple, non-ambiguous questions.
The 10 Best AI Copywriting Tools
1. Jasper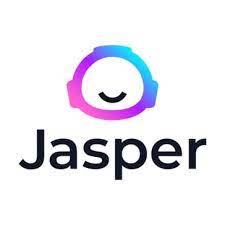 Jasper takes content generation commands and will automatically create all kinds of different content for you and do it for any platform you need it for, from blog posts to product descriptions to even social media and Google ads. Jasper really can do it all.
With many features available from multi-language compatibility, adjusting the tone of voice and SEO and SEM optimised writing every time, and so much more, Jasper is jam-packed with features that will not disappoint.
Jasper Pricing & Subscription Options
Due to Jasper being such a premium tool, they don't offer a free plan or trial, which for the amount you get and how good it is, it's not surprising. But Jasper offers two different subscription options, Starter or Boss Mode, and each offers multiple sub-tier pricing options based on the number of words you need per month.
Starter Package: Starts at $29 per month, which is for 20,000 words per month and allows you to access all of the 50+ different features available and but with the Starter Package, you are unable to access some of the advanced features.
Boss Mode: Starts at $59 per month, and you get a starting point of 50,000 per month. With this plan, you are not only getting all 50+ features but can access every advanced feature available, too, such as the SEO mode and Grammarly integration.
2. Copysmith

Copysmith, just like its competitor Jasper was created in 2020, and this AI Copywriting Tool does give Jasper a run for its money. Copysmith has over 32 different copywriting templates to choose from, allowing writers to cover all their content needs, from blogs and articles to eCommerce to even social media posts and ad copies. Copysmith encompasses a wide range of content using AIDA and PAS marketing frameworks to help generate that copy.
With the GPT-3 model to get the best artificial intelligence content available, an easy-to-use interface so you never get confused, and a variety of plugins from WordPress to Shopify to cover all your eCommerce needs, Copysmith is the complete package deal!
Copysmith Pricing & Subscription Options
Professional: The Professional plan starts at $59 per month with unlimited credits that allow access to the blog generator and all basic features, but you can only have 100 plagiarism checks and long-form content creation.
3. Writesonic

Writesonic was created during the Covid-19 Pandemic when the need for an AI Copywriting Tool was probably at its highest, with everyone working from home. This tool was launched on Appsumo, and people loved it!
This AI tool can generate more than 40 content types, and right before you even start your content production process, Writesonic will ask you what kind of content you are looking for and will use either the AIDA or PAS marketing frameworks to come up with that chosen content. From website content to digital ads to eCommerce and blog posts, Writesonic covers it all.
Not only that, but Writesonic has a wide range of superb features too. You can expect the highest content writing ability using the latest AI and the GPT-3 model. It has predictive scoring, so you know how well your audience will receive your content before publishing. With so much more to offer, Writesonic is easy to use, so you will never get lost trying to figure out how to get the most out of this AI Copywriting Tool.
Writesonic Pricing & Subscription Options
Pricing with Writesonic is flexible, with generous plans that suit every type of user. When it comes to free trials or free programs, Writesonic offers a ten free credit scheme that allows users to generate content within that credit limit for free so that they get a feel for what is on offer.
Starter: Beginning at $15 per month and gives you access to every feature, including its long-form writing tool, but comes with a 75 credit per month limitation, so you have to decide what content is most important that month.
Start-up: This is a plan that starts at $95 per month, but for that, you get unlimited copywriting credits and 750 long-form content creation credits per day, which is great for a small business or freelancer.
Agency: Perfect for bigger businesses or agencies, this plan starts at $195 per month, and for that amount, you get unlimited short-form content, 2,000 credits to create long-form copy, and you gain access to all upcoming features, white labelling and support channels throughout.
Can AI Replace Content Copywriters?
Although copywriting tools are wonderful, they are not without flaws. To make it match your brand voice and audience, you'll need to use human creativity. Some AI copies may be strange, not human-like, or even inaccurate. So, it's not wise to do away with human copywriters from your team. Human emotional intelligence is essential in a fast-paced and fiercely competitive digital world. Integration of human and artificial intelligence is the best copywriting asset!
Copy AI is the ideal copywriting tool for content creation with the fine finished product, Jarvis is a top contender for speed and user-friendliness, and Wordtune is an excellent tool available at a much lower price. But what if you get all these features and more in one? Simplified does it all for you!
Simplified's easy navigation, structured workflow, team collaboration, and affordable pricing plans make it an extremely useful tool for all marketers, writers, and creators. Moreover, you can flexibly choose from a diverse set of copy templates and watch Simplified's AI writer do its magic!
Sources:
https://copysmith.ai/best-ai-copywriting-tools-software/
https://jamestaylorseo.co.uk/reviews/best-ai-copywriting-tools/
https://simplified.co/blog/ai/copywriting-tools/